China
Jenny Over the Great Wall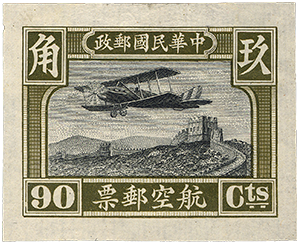 90c Curtiss Jenny over Great Wall airmail die proof, 1921.
Issued in 1921, this is China's first airmail stamp, for service from Peking to Shanghai. It shows a Curtiss Jenny airplane flying over the Great Wall of China. On the tail is the symbol of Sun Yat-Sen's republican China. In 1929 the stamp was reissued with the nationalist sun emblem.
India
Sindh Dak Post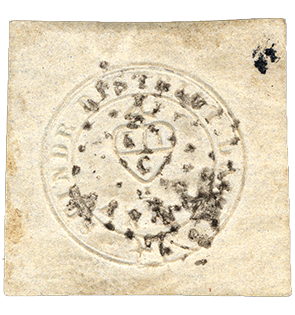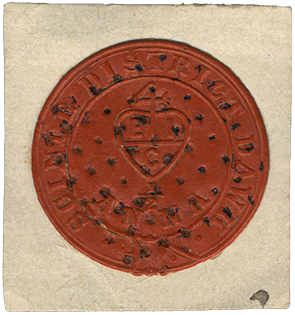 Two 1/2a Sindh Dak District Post singles, 1852.
These stamps from the Sindh district were the first issued in India—and in Asia. In 1854 the Indian government recalled all unused stamps from Sindh, making them scarce today. The red stamp is also rare because the fragile wax caused many to fall apart. Sindh is now in Pakistan.
Japan
Sutherland Local Boos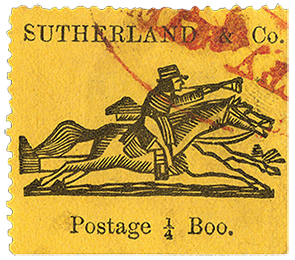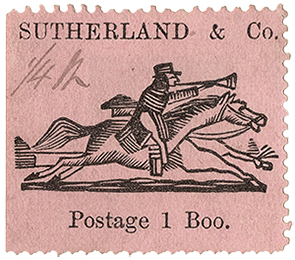 ¼b Sutherland & Co. local post single, c. 1870. ¼b manuscript surcharge on 1b Sutherland & Co. local post single, c. 1870.
Issued by an English-owned stagecoach line that carried mail from Tokyo (Yedo) to Yokohama, these 1870 stamps are among the world's rarest. Collectors call them boos–a shortening of ichibuban, an old Japanese currency. This pink ¼ boo is one of six known copies; the yellow ¼ boo is one of eight.