Treating Objects Impacted by Disaster: The 9/11 Mailbags
10.14.2011
Blog
By Manda Kowalczyk, Preservation Technician
This is the third in a series of three posts addressing the anthrax bioterrorism attacks that took place in October 2001. Click for parts one and two.
In October 2001, the National Postal Museum began collecting objects from the Church Street Post Office in New York City, which serviced The World Trade Center. The large items we collected, including a sorting unit, were wrapped up, palletized and delivered to NPM by a fine arts handler. However, small objects, including two satchels and a mail sack, were put inside a box (shown below) and mailed to the National Postal Museum.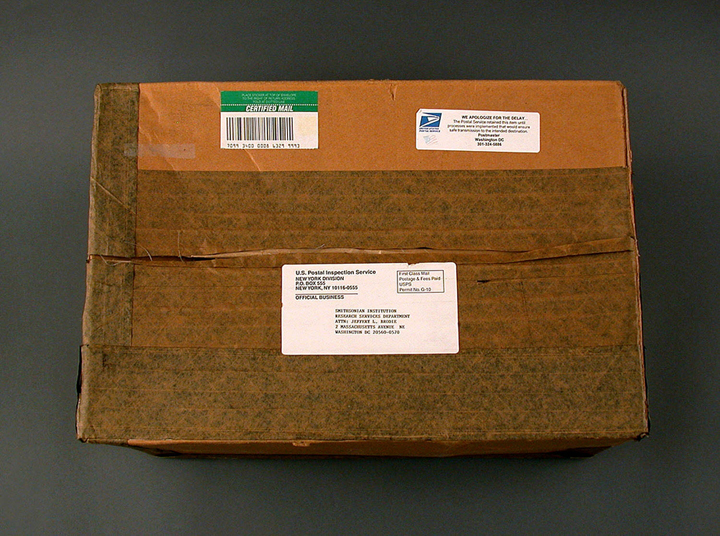 As these objects were en route to D.C., another tragedy occured. On October 6, 2001, two letters containing anthrax were sent through Washington, D.C.'s Brentwood mail processing center, the hub for D.C. mail activity.
On October 21, 2001 the Brentwood facility, later renamed the Curseen-Morris Mail Processing and Distribution Center after the two postal workers who lost their lives after inhaling the lethal anthrax, was closed and sealed for decontamination but not before the box containing these three mailbags had entered the facility. The package was held at the post office for several months while the building was decontaminated.
Once the box arrived at NPM, the mailbags were sent to an off-site Smithsonian facility where they went through a second decontamination process to remove debris from the initial 9/11 attacks. After decontamination the objects were bagged and sent back to NPM.
Despite decontamination, the mailbags were still dirty and needed to be surface cleaned, photographed and put into boxes for storage. Recently the preservation department installed a new fume exhaust arm (also known as an elephant trunk) and exhaust fan enabling me to set out the mailbags and surface clean them using a High-Effeciency Particulate Air (HEPA)Vacuum and brushes. I wore my half-mask respirator, Tyvek suit and nitrile gloves for personal protection and went to work.
I found cleaning the mailbags to be quite a fullfilling and emotional experience and I was moved when I opened up one of the satchels and found numerous rubber bands (used to bundle mail) and two pens that belonged to companies in the World Trade Center (pictured below.) The zip codes were obvious clues.

Below are before and after treatment images of the three mailbags.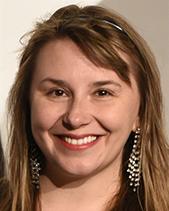 About the Author
Manda Kowalczyk: "After graduating with a BA in Arts and Culture, I began working in the Preservation Department in 2004 assisting with conservation treatments, rehousing, courier trips and exhibitions. I also serve as the museum's Safety Coordinator by collaborating with staff to ensure exhibit and staff areas are safe for all!"