Air Mail Service Began:
April 22, 1920
Air Mail Service Ended:
June 31, 1920
Pilot Rehired:
February 24, 1921
Air Mail Service Ended:
June 30, 1927
Total Hours Flown:
2811.58
Total Miles Flown:
268,094
Assignments:
College Park, Maryland
July 8, 1920 – St. Louis, Missouri
February 24, 1921 – College Park, Maryland
March 16, 1921 – Chicago, Illinois
July 1, 1921 – Reno, Nevada
March 16, 1922 – San Francisco, California
May 1, 1925 - Concord, California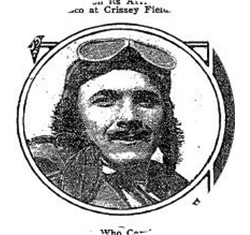 In his years working for the Air Mail Service, Clare Vance was one of the few air mail pilots who had flown every East and West air mail route. He began at Washington, D.C., in 1920. he spent 7,800 hours flying, 1,500 of them at night. Prior to working for the Air Mail Service, Vance had joined the army aviation services on December 4, 1917. Overseas, he flew with the photographic squadrons, and was discharged with the rank of first lieutenant.
Vance had a particularly rough trip in late April 1921 when he flew through one of the worst storms seen to that date between St. Louis, Missouri and Chicago, Illinois. Vance left St. Louis at 11:07 a. m. and arrived in Maywood 3:45 p. m., standard time. The flight usually takes only slightly more than two hours. The weather in St. Louis was slightly windy but was not thought to be heavy. But -- Twenty miles out of St. Louis, however, Vance found himself facing a sixty-five mile gale that almost held the ship stationary. When reaching Maywood field Pilot Vance was so stiff from the cold he had to be lifted from the cockpit. The airplane was entirely covered with ice and sleet collected on the trip.
A week later, Vance was hit be another storm on his Chicago – St. Louis airmail route. This time, he flew into a hail storm so heavy that he had to turn back to Chicago instead of going on to St. Louis. The hail stones were so large and coming at such a high velocity that they tore holes in the wing and pock-marked the airplane's propeller.

Vance was one of several U.S. Air Mail Service pilots who sought jobs with private carriers once the service was turned over to contractors. After having survived tremendous storms and forced landings during his years with the U.S. Air Mail Service, Vance was killed on December 17, 1932, while flying the mail for United Air Lines. Two days later, the Washington Post ran an article describing Vance's life and tragic death.
CLAIR VANCE DIES IN CRASH IN CALIFORNIA
Body Found in Wrecked airplane; Hit Mountain in Heavy Fog.
WIFE OF NOTED PILOT COLLAPSES AT HOME
Son Born to Her 6 Weeks Ago; Airman Started Flying Here
Danville, Calif., Dec. 18 (AP). Claire Kinsey Vance, 35, veteran air mail pilot, rode to a flaming death against the summit of Rocky Ridge, four miles west of Danville, last night. His body was found today in the charred wreckage of his airplane.
Vance, fifth ranking air mail pilot in the United States, started his flying career with the Army of the World War and served in France with Quentin Roosevelt, son of the former President, who was shot down behind the German lines.
Alone in a two-passenger airplane, Vance left Oakland Airport at 11:45 p.m. last night with his cargo of air mail for the East. Fears for his safety were first raised after he failed to report by radio to receive instructions concerning the weather ahead.
Few Feet Meant Life
A scant ten feet more of elevation would have taken the airplane safely over the ridge, which is about 2,000 feet high. It was the last between him and the level Sacramento Valley.
C. E. Johnson, vice president of the United Air Lines, accompanied the foot party to the wrecked airplane after it had been sighted from the air. He expressed the opinion Vance was "flying blind" because of a fog and was depending on his instruments to give him the altitude.
Mrs. Vance, the former Miss Lucille Williamson, San Francisco public school teacher, lay in a state of collapse at the Vance home in Alameda. A son, Richard, was born to her six weeks ago.
Time after time Vance had brushes with death, and won.
Outside his World War flying, one of his most sensational experiences was the day after Thanksgiving, 1923, when a snowstorm forced him down in practically the wildest part of Placer County, Calif., on the banks of the upper reaches of the American River, where he undertook to "pancake" his airplane and landed in a manzanita thicket.
Veteran in Mail Service
With four matches to his pocket he started out for help. Night caught him. He crawled into a hollow stump, built a fire and kept himself awake until daylight. Then he reached the ghost mining town of Last Chance, routed out a prospector and his burros, went back to the airplane for his mail, and reached civilization 48 hours after the crash.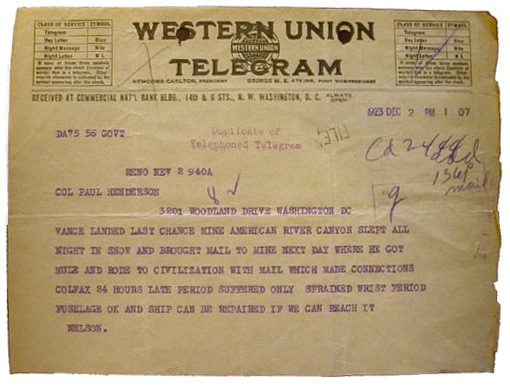 Telegram relaying information about Vance's December 2, 1923 flight.
- Courtesy of the National Archives and Records Administration