Video Tutorial: How to Make a Time Capsule
07.14.2020
Blog
By Lauren Maloy, Public Programs Coordinator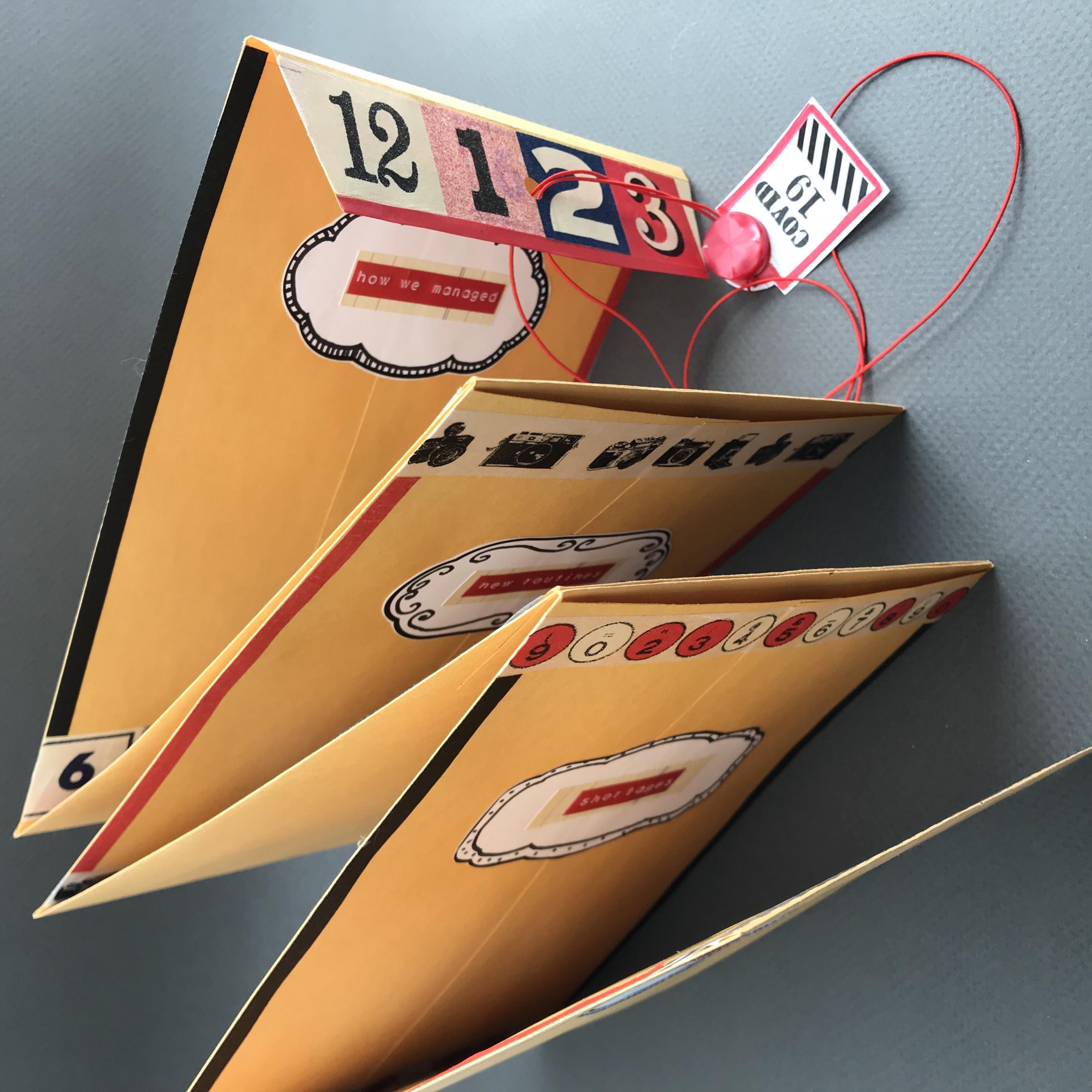 How do we record the moments and the movements in which we are currently living? Do we want to remember them, and if so, how should we preserve our unique journeys? The answer is deeply personal, but a desire to capture the intensity of our current experiences is valid, and there are multiple ways to do so. Shared experiences and virtual conversations have immense power to change, educate, and impact each other. However, sometimes the best way to process the world around us is to record it solely for our future selves.
In the early days of the quarantine, Postal Museum staff reached out to local artist Bel Mills. We had been planning a special Wine & Design with Bel and still hope to do a program with her in the future. Bel Mills is a collage artist and book designer who, under the name of Scrap Paper Circus, upcycles vintage paper and common mail materials such as return business envelopes and cancelled stamps. One of her most interesting and opportune projects is her time capsule, which she creates using materials many of us have around the house. We talked to Bel about the impetus for this idea and about why she uses mail as an integral part of her art. In addition, Bel has kindly provided a supply list and instructional videos to show you how to make your very own time capsule.
A few questions for the artist:
How did you get the idea to make this time capsule?
I was inspired to make an envelope time capsule by a book called "Letters to My Future Self" published by Chronicle Books in 2014 and designed by artist Lea Redmond. The first time capsule I created was to document my 40th decade (which is still in progress)  Though I like the idea of leaving a record for a "future self" to look back on, I don't believe we ever become a "final" version of ourselves. Which is why I like the idea of multiple time capsules to document different stages of life— including the 2020 pandemic stage!
What attracts you to crafting with mail supplies?
As a Gen Xer, I have a million positive associations with the mail. Growing up, letters were part of the currency of friendship. Long distance phone calls were expensive, so long letters were the way to keep friends up to date when they were far away. There was a special thrill that ran through you when you found a plump envelope with your name on it in the mailbox. I have a filing cabinet in the basement filled with dozens and dozens of the letters and greeting cards I've received through mail over the years. For me, an envelope with a handwritten address and a stamp on it will always bring a smile to my face.
After we make our time capsules, what should we put in them?
Some items I included in my time capsule are news articles from the Washington Post, photos of my family engaging in our new routines, as well as a variety of lists. The specific lists in my capsule were: 1) Items that became hard to find in stores (paper products, sanitizer, etc.), 2) Events and venues that were cancelled and closed due to the pandemic (like the Smithsonian Museums closures, and major league sports cancelling seasons), 3) Simple pleasures I've relied on during the lockdown (reading novels, snuggling the dog), 4) New routines (social distancing, wearing masks, working from home). And so on. These seem obvious to us at this point in time. But I try to keep in mind as I'm filling my capsule that nothing is too obvious to include. I imagine myself finding a time capsule from the 1918 flu pandemic, and I think about how the descriptions that seemed obvious to them would be fascinating to us now.
Here's what you need to make your very own time capsule:
6 Business Reply Envelopes
Ruler
Fine Tip Marker
Embroidery Thread
Needle
Button
Glue Stick
Washi Tape
File Label Stickers
Scissors
Watch this instructional video for step-by-step directions on how to make a time capsule:
[Background music throughout video]
Need ideas on what to put in your time capsule? Watch this short video to get inspiration:
[Background music throughout video]
Finally: this project is for you, and we respect the need to keep it private. But, if you do feel moved to share your time capsule, please do! You can share with the Postal Museum on Twitter or Instagram the hashtag: #PostalMuseumAtHome