When Both Tourists and Protestors Go Coco-nutty
05.11.2016
Blog
By Ren Cooper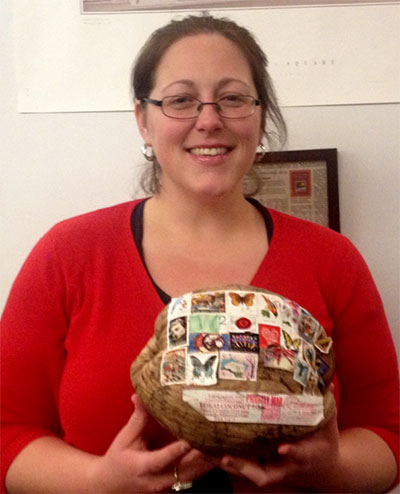 In 2015, Katie Burke, a museum specialist at the National Postal Museum, vacationed in Hawaii. During her time in Molokai, she made sure to mail herself a coconut. That's right–a coconut. In theory, anything with proper postage and a legible address will be delivered by the United States Postal Service, with the exception of dangerous or illegal items. In fact, the history of mailing coconuts is rich and varied. Coconuts have primarily been sent as novel versions of postcards from tropical lands. However, there are several interesting instances of the mailed coconut as a symbol of civic protest.
In the summer of 1987, the United States Department of Interior began leasing about 66 million acres of federal waters for oil exploration to various components of the oil industry. Environmentalists and Florida residents were naturally concerned, as the territory in question was dangerously close to the Florida Keys and Everglades National Park, both teeming with wildlife and vegetation already struggling to survive in an increasingly human world. [1] The Committee of Concerned Citizens mailed hundreds of coconuts to then President Ronald Reagan, Secretary of the Interior Donald Hodel, and other U.S. senators in an ultimately unsuccessful protest of the proposed oil drilling. [2]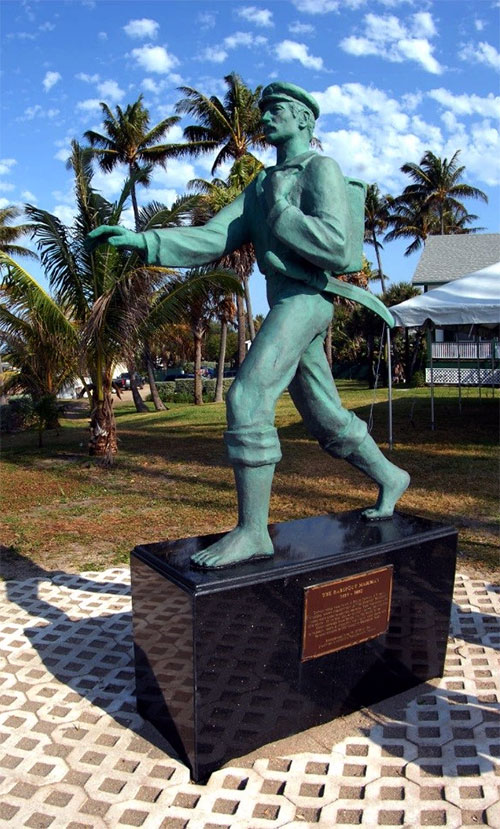 Residents of Lantana, Florida had a similar strategy in 2009, when they received word that the United States Postal Service intended to close their post office as part of cost-cutting initiatives. Lantana has a unique connection to the postal service, manifested in the delightful figure of the "Barefoot Mailman." A bit of backstory: In the 1880s, a contract mail route was established between current-day Palm Beach County and Miami. Since no railroads or roads had yet been constructed between those regions, the contract mail carriers took to the Atlantic Coast, stripping off their shoes to more easily move across the sand. While in actuality, there was a troop of carriers who endeavored the route up until 1892 (when a road was completed between Lantana and Lemon City), "he" is often affectionately remembered in the singular.[3]
According to legend, a long-running joke among the Southeastern Florida residents of the 1880s was to mail a coconut to acquaintances down the coast, which the Barefoot Mailman would begrudgingly pack in his sack and carry along his way. Lantana City Manager and historical reenactor, Michael Bornstein, actually performs as the Barefoot Mailman! Drawing from local legend, Bornstein enlisted fellow residents to mail approximately 1,000 coconuts to the Office of the Postmaster General in Washington, D.C., begging then Postmaster General John E. Potter to spare their beloved post office. [4]
Remarkably, the United States Postal Service resolved to keep the Lantana Post Office open! While a petition of more than 5,300 signatures may have helped, the media-attention drummed up by the coconut-centric protest was undoubtedly a factor in the final decision. [4] The coconuts themselves were donated to Bread for the City, a food pantry with locations in Southeast and Northwest Washington, D.C., which resulted in some nicely tropical-themed menus for several weeks! [5]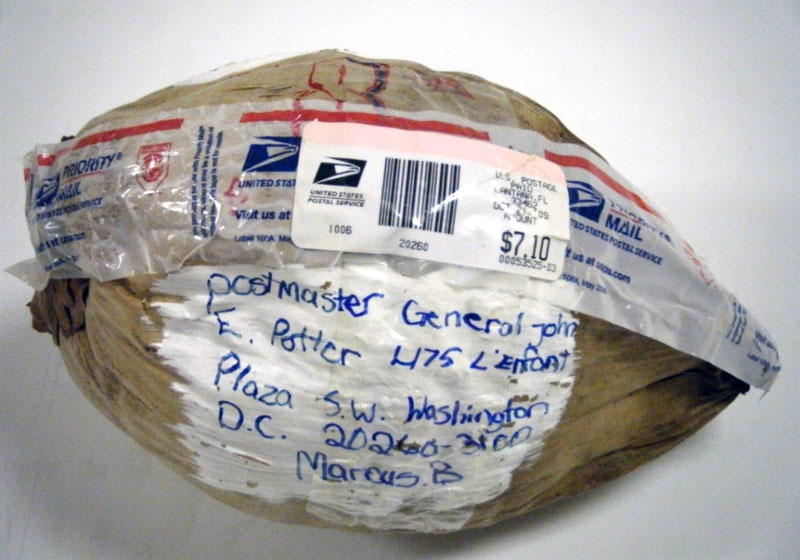 The National Postal Museum has another mailed coconut in its collection, which is currently on exhibit as part of the "Mail Call" gallery. "Mail Call" chronicles the history and importance of America's military mail (visit a digital version of the Mail Call exhibition). In 1944, Raymond Boudet was stationed in Hawaii as a member of the 99th Naval Construction Battalion, Company A. For 37 cents, he sent his wife a most peculiar postcard, with their home address carved directly into the shell.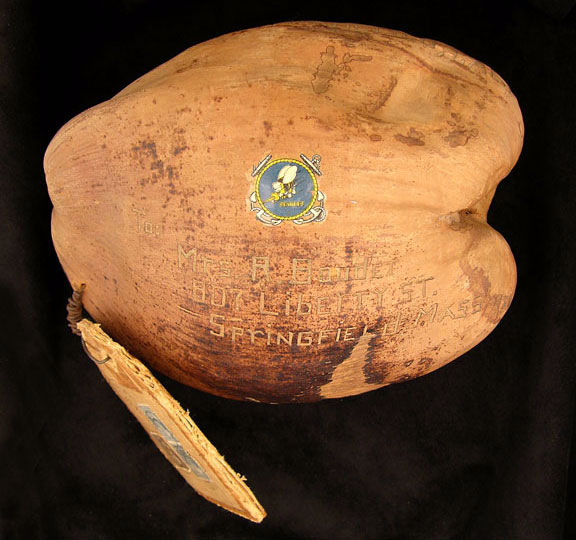 The coconut has a cleverly drilled a hole through which is wired a tag to accommodate the necessary postage. Nowadays, it can cost between $4-$17 dollars to mail a coconut.
We will soon revisit this long-standing tradition of coconut shipping, along with tips for sending your own coconut, in honor of Asian-Pacific American Heritage Month. In the meantime, pop on some Harry Nilsson, pour yourself a piña colada, and let some tropical, good vibes into your life!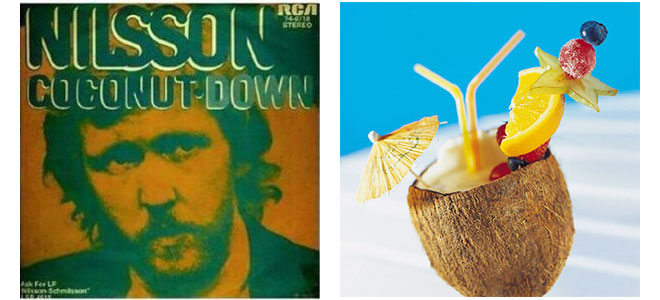 [1] Eva Parziale, "Island Residents Are Fighting to Keep Oil Drilling Off the Florida Keys," Associated Press via Los Angeles Times, August 2, 1987, p. 1.
[2] Cherie Beers, Ocala Star Banner, "Coconuts Shipped to Federal Officials to Protest Proposed Offshore Leases," October 11, 1987, p. 8.
[3] Florida Memory: State Library & Archives of Florida, "Florida's Barefoot Mailmen," November 14, 2014, p. 1-3.
[4] Lono O'Connor, Palm Beach Post, "Lantana's Success in Saving Post Office 'A Lesson in Civics and History,'" November 20, 2009, p. 1-3.
[5] Erin Garnaas-Holmes, Blog for the City, "Well This Is Nuts," November 4, 2009, breadforthecity.org/tag/organizing.