Women's History in Postal Records
07.28.2023
Blog
By Lynn Heidelbaugh, Curator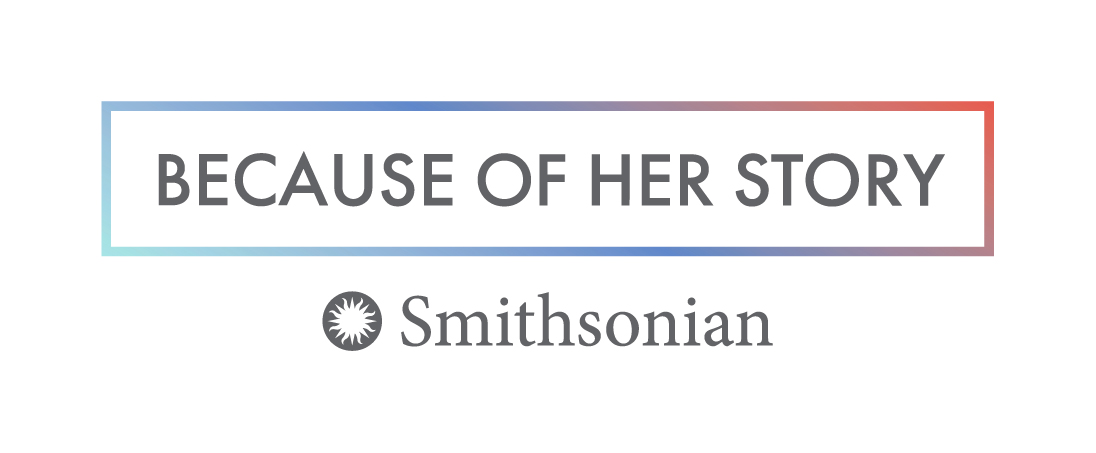 While there is recently published historical analysis of women's roles in federal and postal employment, the available types and scope of records continue to pose a challenge.[1] As historian Cameron Blevins pointed out in a 2019 article, no single source systematically recorded the number of women who served in the Post Office Department and archival records are often limited or incomplete.[2] The National Postal Museum holds three accessions that may help alleviate some shortcomings in the source base, namely two official United States Post Office Department logbooks and a collection of papers, all of which were used by four female postmasters in three rural communities during the decades of the twentieth century when women increasingly began to hold career positions in the Department. To make these sources more readily available for research, the museum undertook a digitization project that received support from the Smithsonian American Women's History Initiative.
Between late 2022 and the summer of 2023 the museum's curatorial, collections, and social media staff worked to preserve the papers, create digital records, analyze the materials, and begin sharing information recently compiled about these three accessions to enable new inquiries in women's history. Our goal has been to develop records that will be discoverable on the museum's online collection search feature and to enable future researchers to access the material that may result in findings, which further understanding and historical interpretation.


Together the three accessions contain evidence about the intersection of gender, race, labor, and consumption in US postal history, yet they each tell different stories through their contents and use. The oldest is a cash book used from 1913 to 1919 at the Blackdom, New Mexico, Post Office. African Americans established Blackdom in 1903, part of a larger movement against laws restricting land ownership after the Civil War, particularly in the American South. Blackdom was the first all-Black settlement in New Mexico, and although the community did not last for more than a few decades, during its heyday it maintained a school, post office, newspaper, and several churches.[3] Blackdom's post office had three postmasters during its time of operation: James A. Eubank, Thomas L. Leathers, and Bessie E. Malone. Bessie Malone (1872-1920) served as postmaster from February 23, 1916, until the post office was discontinued on July 31, 1919, at which time this ledger and all accountable property were turned over to the nearest post office six miles away in Dexter, New Mexico. By the time of the 1920 census, Bessie Malone and her husband George W. Malone were living in Roswell, New Mexico, where Mr. Malone continued his law practice. The account book stayed in the postal facilities in Chaves County until USPS transferred it to the National Postal Museum in 2012. The entries in this volume concern the money order business at the Blackdom Post Office and this data provides opportunities for historians to analyze the economy of the community.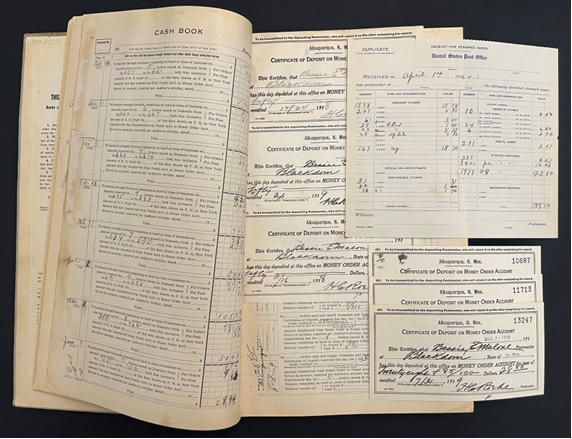 The other book in this project was used by two generations of white, female postmasters performing their federal job duties as well as their obligations and roles as managers of their households. Mother and daughter postmasters Lou Slade (1859-1938) and Mary Slade (1886-1956) used the officially issued "Form 1564" to record the names and change of addresses for the rural route customers of the Rocheport, Missouri, Post Office where they served between 1908 and 1956. They also adapted the volume as a record keeper for their personal purposes. They wrote their own recipes on the blank pages, sometimes next to lists of the postal customers, and stored clippings of published recipes, articles on home economics, and product pamphlets in the book. They created this unique scrapbook at the intersection of their roles as community members, employees, cooks, and home keepers. To date it has not been possible to determine whether mother, daughter, or both kept postal records and household notes in this book, which we have attributed to both women.
Lou and Mary Slade became the last in a long line of postmasters in the family at the Rocheport, Boone County, Missouri, Post Office that was established in 1833. The first in the family to be postmaster was grocer William H. Phillips between 1854 and 1858. He was followed by his son-in-law William Slade in 1861 during the American Civil War. He was succeeded by two postmasters, but following his death in 1869, his widow Susan M. (Phillips) Slade was appointed Rocheport's postmaster by President Ulysses S. Grant and held the position until 1901. William and Susan's son, also named William, became postmaster that year. Lou A. (Stickell) Slade came into the job in 1908 shortly after her husband William died. She worked as postmaster until 1938 when her daughter Mary Slade became postmaster at the very same post office from 1938 to 1956. It is a lineage of careers that has been documented better than many as compared to the numerous instances and stories of familial generations in postal jobs.[4] Indeed, family connections have been one of the avenues of women's postal employment in the US and this is a subject in need of further study.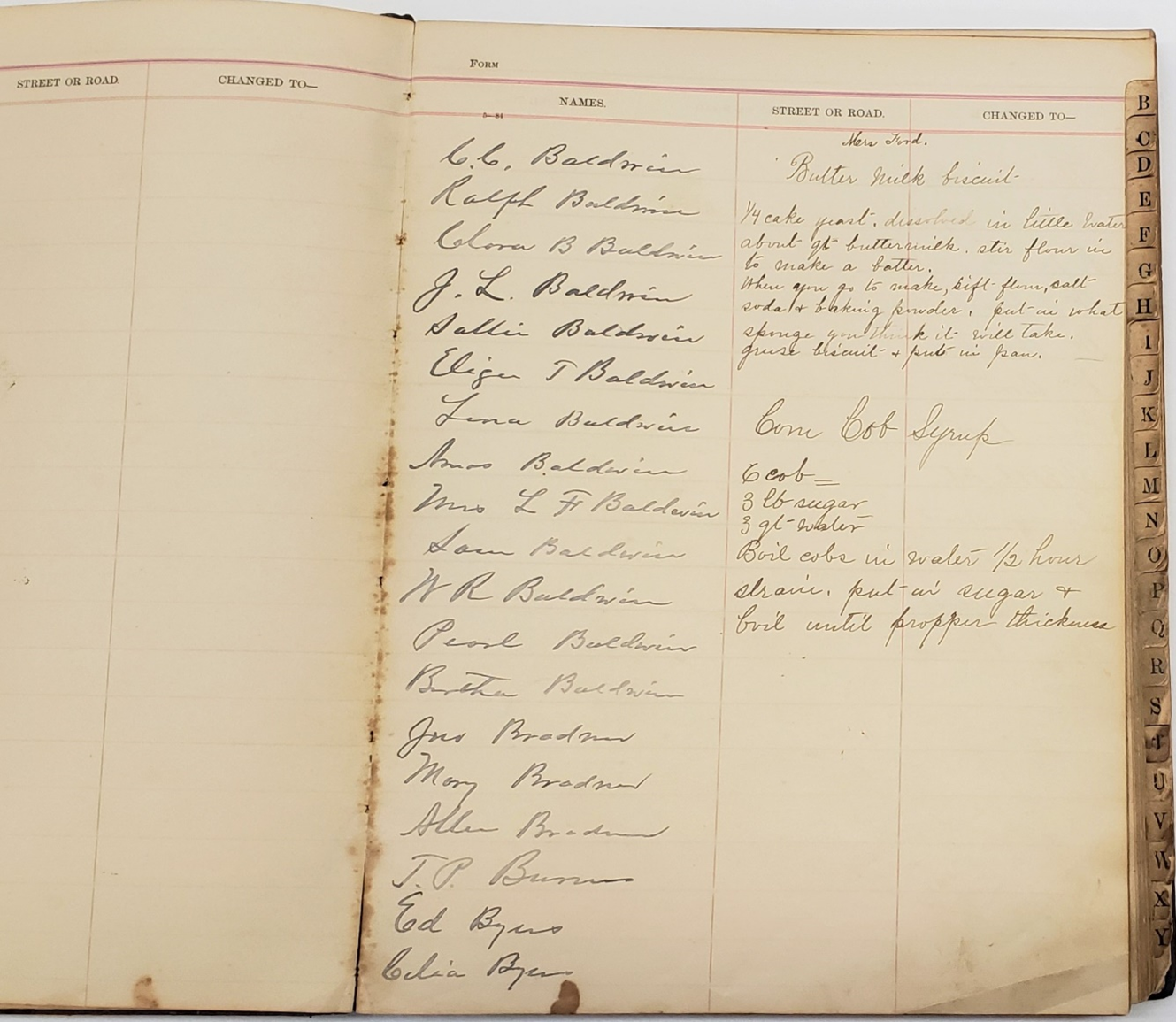 The third accession has different ties to family business, that of the post office in Weyanoke, Louisiana where Leona (LeSassier) Plettinger (1913-2010) worked as postmaster in her husband Bill's general store. The collection of the files remaining in the family's possession were donated to the museum in 2022 while we were beginning this project. Plettinger's papers range from her appointment as acting postmaster in 1956 and a 1994 certificate for twenty-five years of service with USPS to notes left by local customers and letters from philatelic collectors requesting postmarks from the post office located in West Feliciana Parish. Plettinger's postal career spanned four decades and the collection of documents, ephemera, handwritten notes, and mailed letters provides a glimpse into the work that went beyond just fulfilling duties at the post office and serving customers at the general store to include numerous ways in which she assisted community members.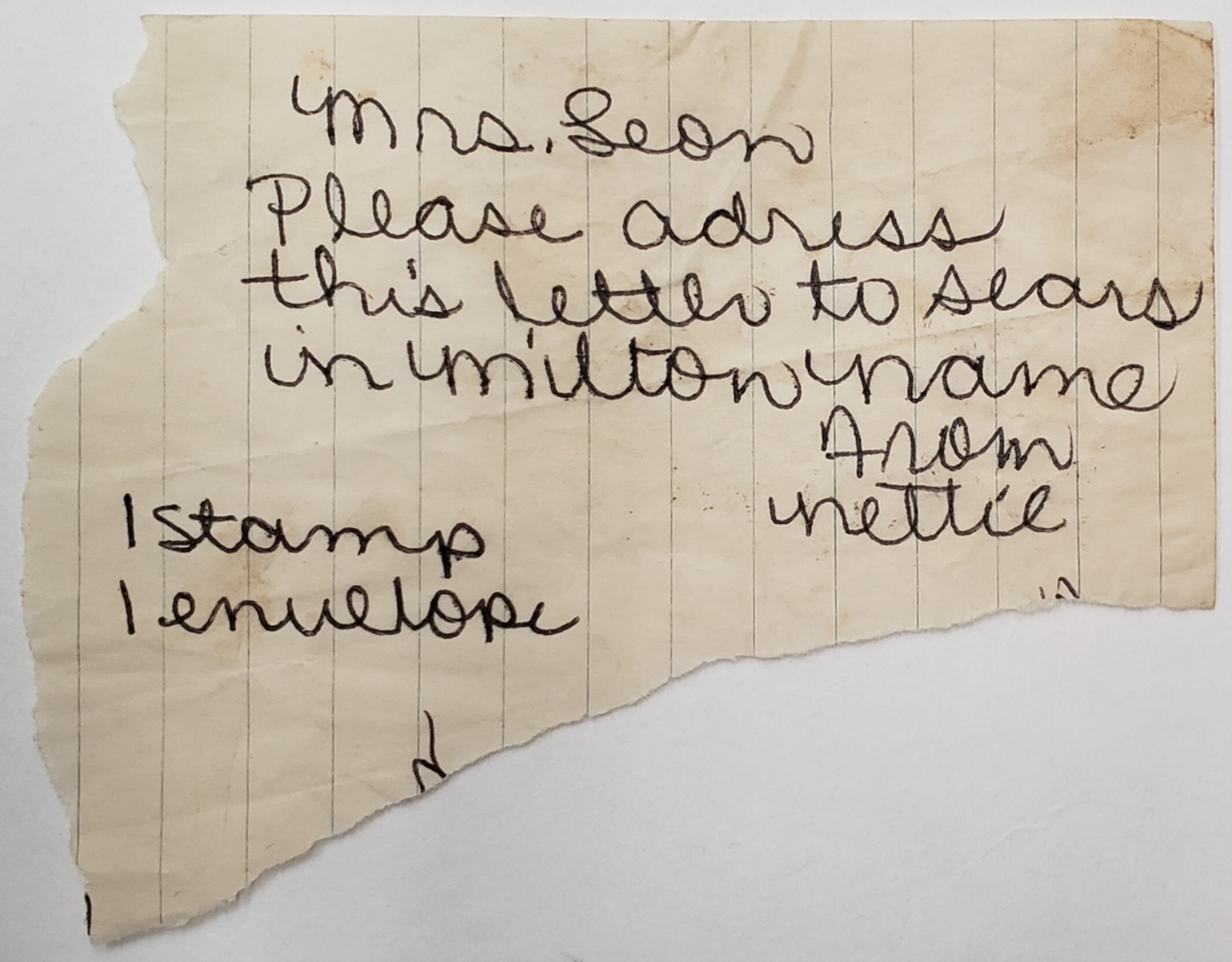 The details about the accessions and careers of Bessie Malone, Lou Slade, Mary Slade, and Leona Plettinger came out of researching the individual's employment records and the histories of their communities. In addition to research conducted by curatorial staff, the project involved a survey of the materials' condition and rehousing the papers by conservation staff; accession numbering of each item and database record preparation by collections staff; numerous descriptive posts online about the project's progress published by our social media coordinator; and catalog descriptions written by curatorial staff, who also worked with a contract researcher to investigate copyrights and privacy rights associated with these documents. By examining rights issues for the items that have images (not all materials in the project were imaged), we have been able to determine which could be released on open access terms, which allows for downloading and sharing images from Smithsonian collections that meet rights clearances and other criteria.
While we were able to designate some items as open access, many had rights issues that pertain or that we were not able to determine conclusively—there were several mysteries that are yet unsolved despite due diligence. Verifying the public domain status of the account book from the Blackdom, NM, post office was straight forward. Since it is a government document used by federal employees, any image the museum generates of the book will be open access. As of 2023, the cover of the book is available and you will see the download icon on the collections search webpage, https://postalmuseum.si.edu/object/npm_2012.2011.1. The postal ledger from Rocheport, MO, was more challenging because the majority of the clippings from newspapers and magazines that the Postmasters Lou and Mary Slade stored in the book did not have dates or source information. Through research we were able to identify some publishers and estimate dates, such as an 1892 article with recipes such as fruit jelly cake, pork cake, milk muffins, and cottage pudding. We also determined that the majority of the documents and correspondence in the files of Postmaster Leona Plettinger at Weyanoke, LA (2022.2010.1-.76) have associated copyright and privacy rights in effect.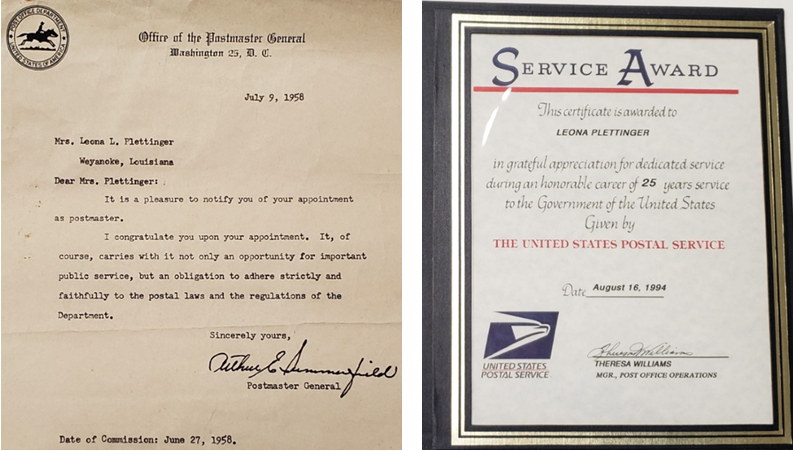 While we strove to optimize open access, our main intent for this project has been that digital access to the basic record of these accessions would be discoverable for researchers. To this end, we established vocabulary for the catalog records for keywords that might be used in searches. One of the terms we debated applying was that of "postmistress," which happened to also spark debates in one of our social media posts about these records. According to the Merriam-Webster dictionary, "postmistress" is an English word dating to 1697.[5] However, it has not been an official term used by the US Post Office Department or US Postal Service. It does not appear as a job title listed in editions of the US Official Register of federal employees; and, a search of the digitized US Postal Bulletins resulted in only one reference to an American female postmaster in 1915.[6] Nevertheless, the term has been in use in American newspapers, magazines, and literature, such as Eudora Welty's 1941 short story "Why I live at the Post Office."[7] Although this antiquated, feminine version of a gendered noun, was never an official term in the United States, it was nonetheless part of the popular lexicon contemporary to these three accessions, and we have applied it when we believed it would help the digital records be found in online searches.
As of July 2023, there are 428 records available about these three accessions through the museum's collection search webpage.These accessible digital records begins to speak to the archival silences about women in postal history and the American experience across disciplinary boundaries; and taken together, the records can be analyzed to interrogate the intersections of race, gender, culture, and class, or analyzed separately for insight into individual lives and the significance of postmasters in local histories. We hope you will explore these and pursue your own lines of inquiry about these records, whether that is the history of the post office, women, labor, economics, community, cuisine, and more.
Thank you to Alison Bazylinski, Ren Cooper, and Susan Smith for contributions to this description of the project and to the Administrative, Collections, Curatorial, and Public Affairs staff of the National Postal Museum for work on the project, and to the Smithsonian American Women's History Initiative for support.
---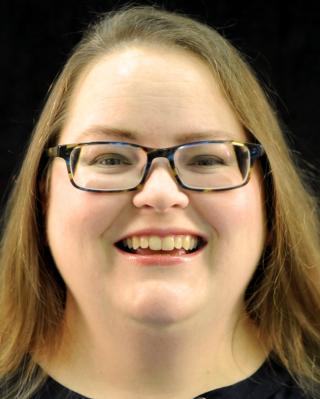 About the Author
Lynn Heidelbaugh is a curator specializing in the history of the U.S. Postal Service, military mail, and the material culture of letter writing. Ms. Heidelbaugh has served as lead curator for several National Postal Museum exhibitions including, Mail Call (2011), Behind the Badge: The U.S. Postal Inspection Service (2014) and My Fellow Soldiers: Letters from World War I (2017), for which she received a Smithsonian Secretary's Research Award.