YMCA Work During the Great War
03.23.2018
Blog
By Jessica Henn, Collections Assistant, Women In Military Service For America Memorial Foundation
Morale is one of the main factors that can help or cripple an army. Thus when the US joined World War I, the YMCA set out to work alongside the US Army to keep up morale - feeding soldiers, providing comfortable spaces for them, and otherwise keeping them entertained. An informational pamphlet for women thinking of joining the YMCA described the work expected of YMCA workers, "While it is the constant duty of the women to transform bleak, muddy huts into popular and attractive gathering places, and to prepare and serve hot coffee, chocolate, soups, sandwiches, doughnuts and pies, the great purpose is to bring cheer and comfort into our distant camps and to create there the spirit and atmosphere and influence of the American home."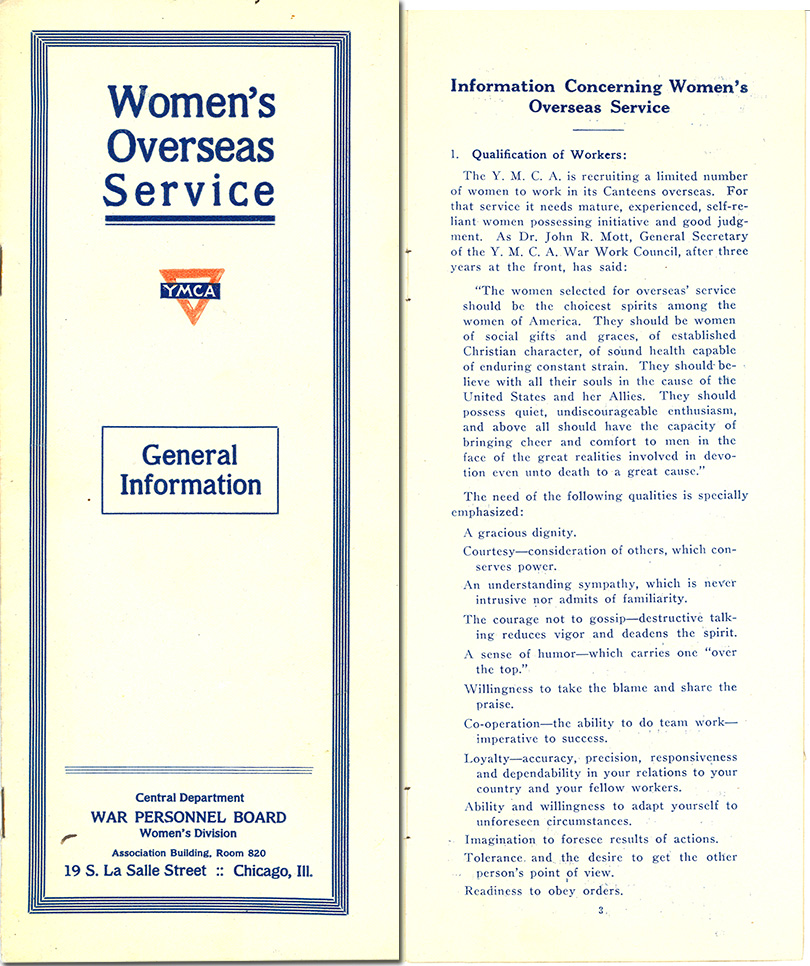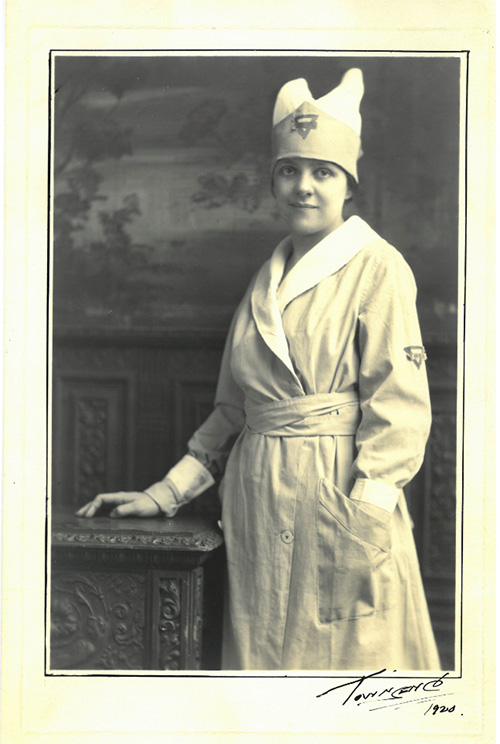 The desired qualities of a YMCA worker read humorously to the modern audience. She must be of perfect health, possess social gifts and graces, and, "She must be ready to labor with her hands – to scrub floors and wash dishes – with the same enthusiasm that she greets the men or plans an entertainment." It was also highly encouraged that these women pay their own way. They were to pay for their transportation from their hometowns to New York where they would be evaluated for overseas duty. If accepted,  they were to pay for their uniforms and other clothes, their equipment, their housing, and provide their own spending money. All told the pamphlet estimates, "it will cost $2,000 to transport, outfit and maintain a woman worker for one year…she should figure that it will cost her at least that amount." Despite the promise of finacial burdens and muddy huts, women turned out in droves to volunteer.
Ethel Ash, one of the four women highlighted in the In Her Words: Women's Duty and Service in World War I exhibition at the National Postal Museum, was thrilled when she was accepted as a YMCA canteen worker. She served just shy of a year in France through most of 1919, shortly after hostilities ceased. Her service saw her partying with soldiers, making doughnuts by the hundreds in Verdun as well as running a soda fountain in Paris. She describes this latter venture in detail in a June 19, 1919 letter to her family. While letters coming out of a war zone were generally subject to censors, it would seem much of Ash's work was not classified. While the letters of many nurses and other women serving abroad at the same time do not discuss their day to day work activities in detail as this would not get through the censors, Ash was able to describe her activities relatively freely.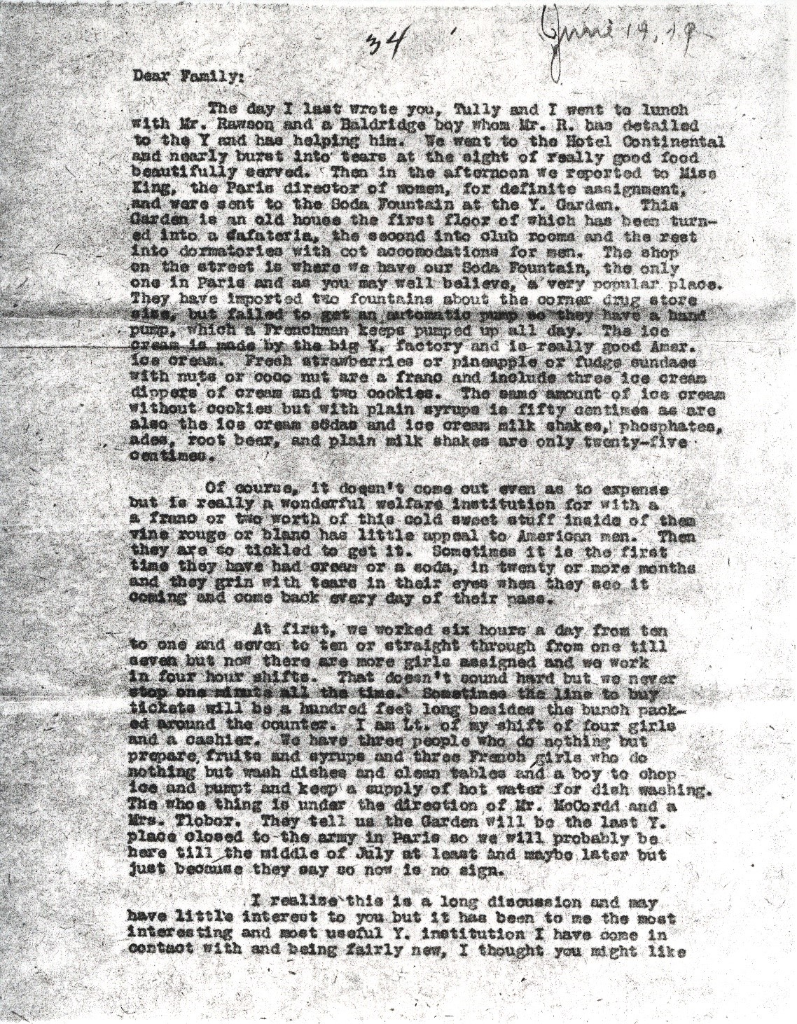 Upon arrival in Paris, Ash was sent to the Y. Garden – an old house converted into a facility that included a cafeteria, dormitories for men, club rooms, and Ash's soda fountain. The soda fountain was deemed so important that in the first letter in which she talks about it, she says they will probably be the last to close in Paris and expects to be there till mid-July. In reality, she was stationed at the Y. Garden until she went back to America in late November. In a letter to her family dated September 13th she claims to be one of the last 143 "Y girls" left out of over 3,000 and their business is so busy they, "are serving still practically a thousand litre a day."
The soda fountain served several purposes. Ash specifically refers to it as a welfare institution that did not even try to earn an actual profit. A single franc could get a soldier three scoops of ice cream with cookies, fruits, and syrups, bringing a bit of home to soldiers who had been overseas for extended periods. She describes the soldiers as experiencing a rapturous joy at their first ice creams in 20 or more months, writing, "they grin with tears in their eyes when they see it coming and come back every day of their pass."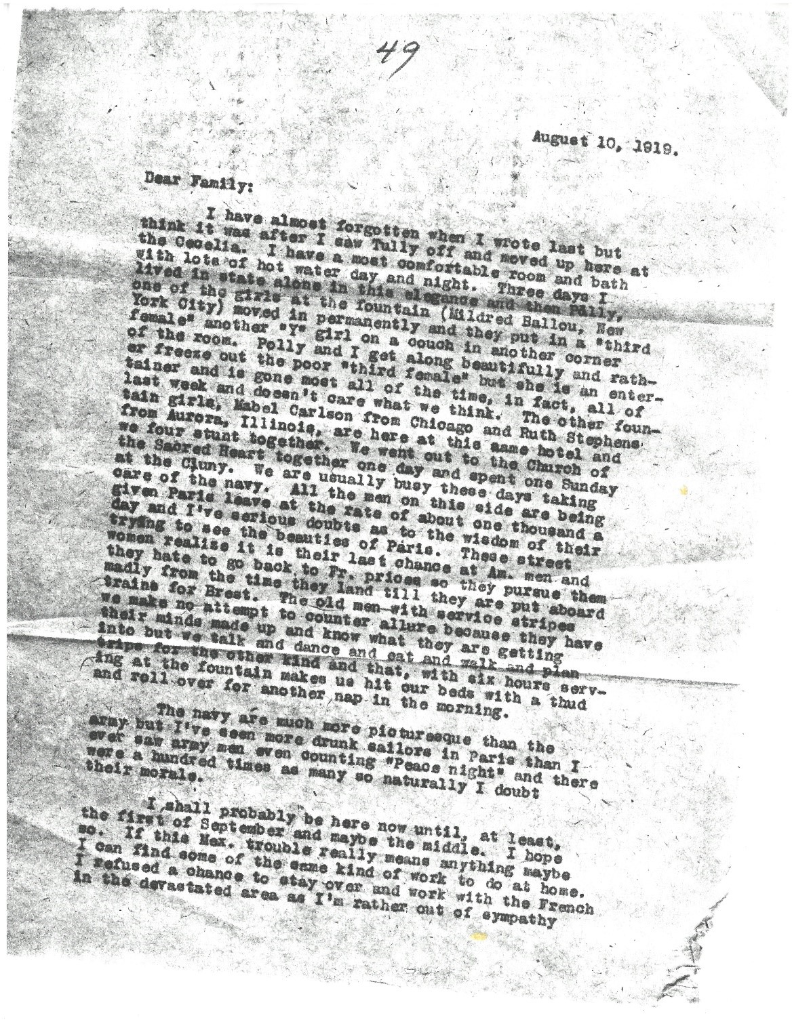 Beyond simply buoying soldiers' spirits, the soda fountain was a tool used to fight insobriety amongst the soldiers. It was the theory that wholesome American ice cream and milkshakes would help quell any need for alcohol. Ash seems to have been a hearty believer in this, stating, "with a franc or two worth of this cold sweet stuff inside of them vine rouge or blanc has little appeal to American men." Indeed, Ash notes a significant difference in sobriety levels and general behavior between the men from the Army (who would have had relatively regular access to morale boosting programs from the YMCA and other organizations) and those in the Navy.
Coming from a job where her main focus was on morale, she attributes this difference to a morale problem amongst the Navy men, saying, "…I've seen more drunk sailors in Paris than I ever saw army men even counting 'Peace night' and there were a hundred times as many so naturally I doubt their morale."
A Y girl was never truly off duty, since after her duties serving food and beverages were concluded, she was expected to entertain the soldiers by attending parties and dances, giving directions, planning trips, and other such wholesome activities. In this capacity the Y girls were providing soldiers opportunities for good clean female companionship. In many cases it had been so long since they had seen an American woman that they were overjoyed just to hear a familiar accent.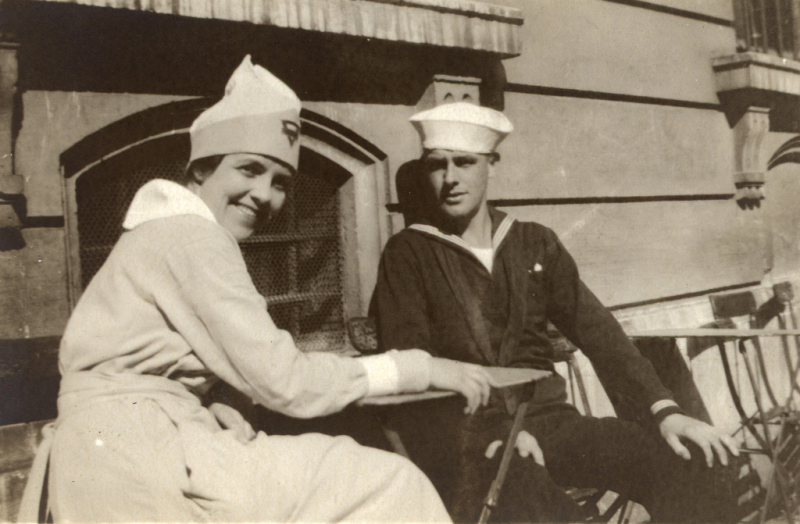 It was no small thing for these women to put their lives on hold for at least a year, pay for everything themselves and live in sub-par conditions, work long hours scrubbing and cooking, and then spend the rest of their waking hours attending parties and keeping the soldiers' morale up. Yet, they felt it was their patriotic duty and were happy to play their part. Living and working abroad also gave the Y girls opportunities for independence they otherwise would not have been afforded - women like Ethel Ash returned home with greater dreams of what life could give than they had before leaving. They returned to America newly empowered and ready to push for those greater aspirations.
For more information, see the In Her Words: Women's Duty and Service in World War I exhibition on display at the National Postal Museum until August 5, 2018.