Camisa de los Yankees de Nueva York utilizada por Yogi Berra en los Partidos como Visitantes, 1951
Blog invitado del autor publicado por el Smithsonian, Stephen Wong, quien también se desempeña como asesor honorario de la exhibición Béisbol: El Jonrón de los EE.UU.
"Era como el Cuatro de Julio allá afuera. No podías levantar la cabeza o te la volarían."
—Yogi Berra, recordando sus deberes a bordo de un cohete durante la invasión aliada el día D, 6 de junio de 1944—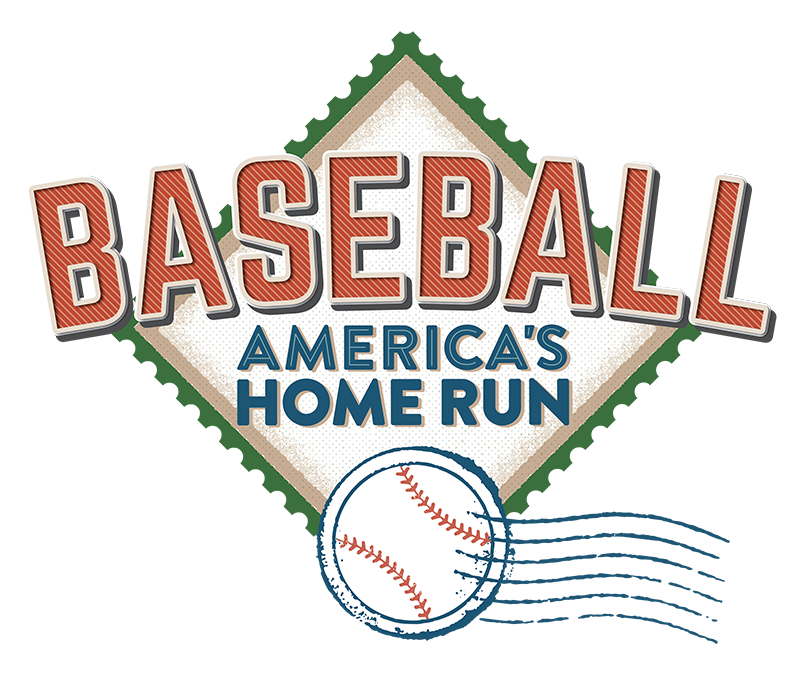 El panorama para 1952 parecía ominoso para los Yankees de Nueva York. El anuncio inesperado de Joe DiMaggio de que se retiraba después de 13 temporadas dejó un gran vacío por llenar. Los Yankees acababan de derrotar al rival del otro lado de la ciudad, los New York Giants, cuatro juegos a dos, en la Serie Mundial, y el novato Mickey Mantle acababa de completar una excelente primera temporada. Aún así, el estómago del gerente Casey Stengel se revolvió ante la idea de perder a la estrella más grande del equipo.
Stengel no tenía por qué haberse preocupado. A pesar de la pérdida de DiMaggio, los Yankees todavía presentarían un equipo formidable de talento para la temporada de 1952, incluidos Mantle, Phil Rizutto, Johnny Mize, Hank Bauer y un joven Billy Martin. Y el núcleo de esa constelación era un receptor sencillo y hogareño que se convertiría en uno de los personajes más importantes, y en los mejores receptores, de todo el béisbol.
Lorenzo Pietro Berra nació el 2 de mayo de 1925 en un barrio italiano de St. Louis, Missouri, llamado The Hill. Sus padres eran inmigrantes de Robecchetto, Italia, y hablaban un inglés entrecortado. Para ayudar a su hijo a asimilar mejor a los padres de Berra, Pietro y Paolina, cambiaron el nombre de su hijo a Lawrence Peter. Lo llamaron Lawdie porque Paolina no podía pronunciar su nombre del Nuevo Mundo. Berra no era un buen estudiante y, en contra de los deseos de su padre, dejó la escuela después del octavo grado y encontró trabajo en una carbonería y en un camión de Pepsi Cola. Lo despidieron de ambos trabajos porque salía temprano del trabajo para jugar a la pelota e ir al cine con amigos. Una película a la que asistieron los niños presentaba una parte sobre la India y mostraba a un yogui, una persona que practica yoga. El yogui estaba sentado en el suelo con las piernas cruzadas, y cuando se levantó se tambaleó. Uno de los amigos bromeó diciendo que caminaba como Berra y, a partir de entonces, Berra pasó a ser conocido como Yogi.
Berra jugó béisbol para su escuela católica y para el equipo local de la Legión Americana. Le encantaba jugar al receptor, y ayudaba que fuera bajo y fuerte, capaz de agacharse durante largos períodos sin calambres ni cansarse. Rápidamente se hizo conocido en St. Louis por su obra. Joe Garagiola, un amigo que vivía al otro lado de la calle de Berra y también era receptor, consideraba a Berra como el mejor jugador de la ciudad. Los dos fueron a una prueba con los Cardinals en 1942, y Garagiola, de solo 16 años, recibió una oferta de contrato y un bono de $500. Un año después, se convirtió en la persona más joven en jugar para los Columbus Red Birds, un equipo de ligas menores de los Cardinals. A Berra le ofrecieron un contrato pero no una bonificación y, en un ataque de resentimiento, lo rechazó. Branch Rickey, el gerente general de los Cardinals, quien se convertiría en presidente de los Brooklyn Dodgers en 1943, insinuó que quería llevar a Berra con él a Brooklyn. Pero Berra firmó con los Yankees de Nueva York en octubre de 1942 por un bono de $500 y un salario mensual de $90.
Berra pasó la temporada de 1943 con un equipo de ligas menores en Virginia. Pero la historia mundial intervino, y Berra se unió a la Marina en 1944, ofreciéndose como voluntario para servir en un barco cohete, un buque de guerra rápido de 36 pies, tripulado por una tripulación de seis y armado con 24 cohetes, dos ametralladoras calibre .30 y una ametralladora gemela calibre .50. Berra y la tripulación se entrenaron para una operación de alto secreto, que resultó ser la invasión aliada de Francia el día D, el 6 de junio de 1944. Berra, un artillero de ametralladoras, obtuvo numerosos elogios por su valentía bajo fuego.
Después de dejar el servicio, Berra se unió a los Newark Bears, un equipo de ligas menores, y fue llamado a los Yankees en septiembre de 1946. El servicio militar de Berra no le ganó el cariño de su compañero de equipo Joe DiMaggio, en parte porque DiMaggio había servido como profesor de educación física. instructor en California y Hawái en lugar de la asignación de combate que había solicitado. DiMaggio cortó la figura más fina, por supuesto, mientras que Berra parecía una cama sin hacer. Un periodista deportivo dijo que el nuevo recluta "ni siquiera parece un Yankee", mientras que un ejecutivo de los Yankees dijo que Berra parecía "el último en un equipo acrobático desempleado". Berra ignoró a las críticas y pronto los periodistas deportivos comenzaron a molestar a otros jugadores, especialmente cuando Berra comenzó a dar buenos resultados.
En su primer juego como Yankee, el 22 de septiembre de 1946, Yogi se fue dos de cuatro contra los Atléticos de Filadelfia con un jonrón ante Jesse Flores en su segundo turno al bate. Al día siguiente, conectó su segundo jonrón. Berra lideró a los Yankees en carreras impulsadas a pesar de que DiMaggio se consideraba la potencia de bateo del equipo. Berra se especializó en batear lanzamientos de basura y aunque solo medía cinco pies siete, podía llegar a todos los rincones de la zona de strike con su bate. En cinco temporadas, Berra tuvo más jonrones que ponches. Bateó .285 en su carrera y conectó 358 jonrones con 1430 carreras impulsadas.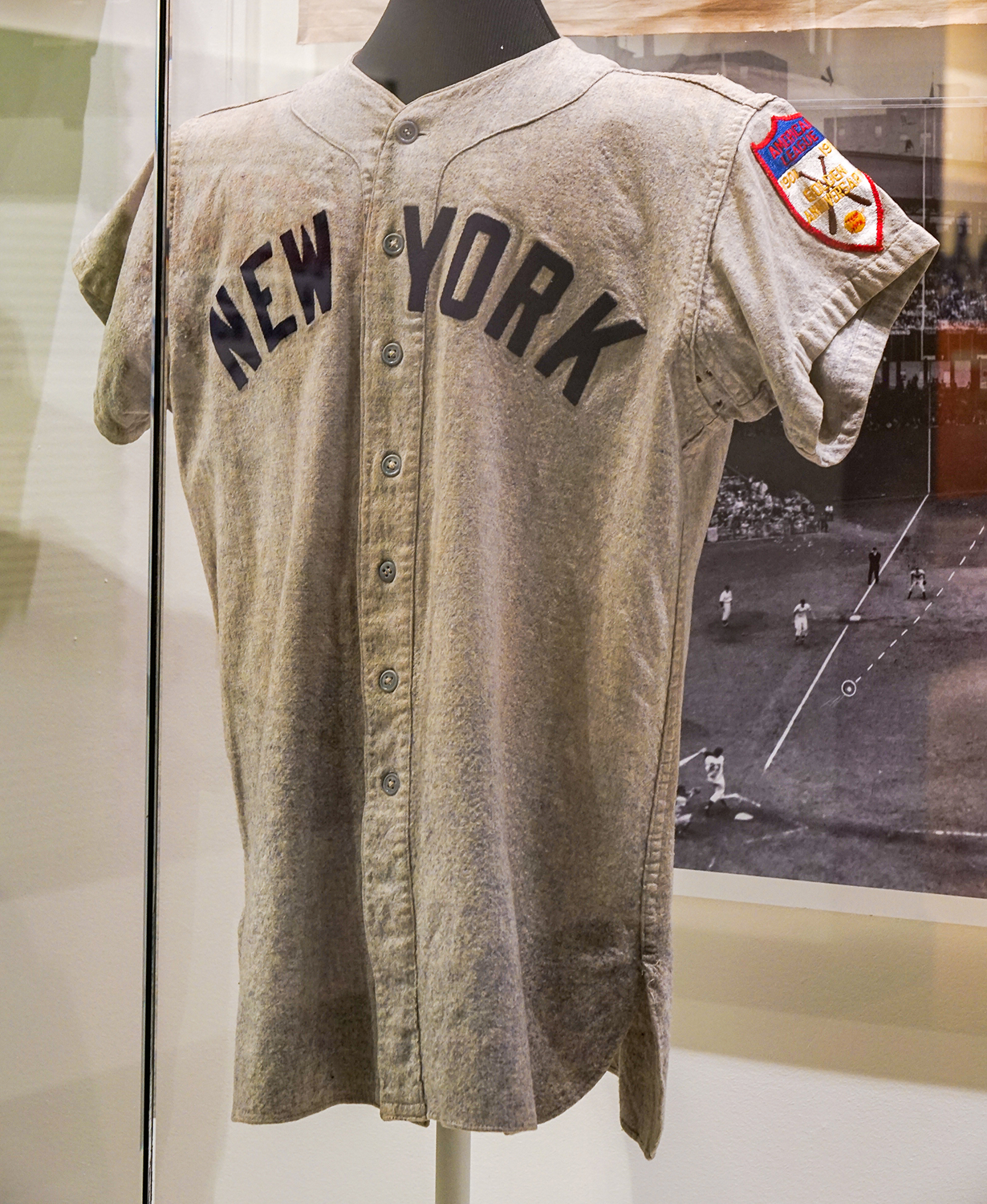 Como receptor, Berra también fue temible. Jugó 148 partidos seguidos desde 1958 hasta 1959 sin cometer errores. Era rápido como un rayo y merecía el respeto de los lanzadores, quienes rara vez se lo quitaban de encima cuando pedía un lanzamiento. Don Larsen, quien lanzó un juego perfecto en el Juego 5 de la Serie Mundial de 1956, dijo que no se quitó de encima a Berra ni una sola vez durante su obra maestra. Berra lideró la Liga Americana en casi todas las estadísticas de recepción y estableció el récord de la liga con 8,723 outs. Fue el jugador más valioso de la Liga Americana en 1951 (ese año usó la camiseta de franela gris de los Yankees de Nueva York que se muestra aquí) y nuevamente en 1954 y 1955. La evidencia de que la camiseta se usó en 1951 se revela en la información impresa en la camiseta gris. Etiqueta de la tira en la zona del cuello: "L Berra 1951-2". Esto representa el nombre del jugador y el año de emisión, y el número 2 significa que la camiseta fue la segunda fabricada por Spalding que se entregó a Berra esa temporada. La camiseta también presenta el parche del aniversario de oro de la Liga Americana que se aplicó a todos los uniformes de la Liga Americana en 1951.
Berra jugó en un récord de 14 Series Mundiales, y los Yankees ganaron 10 de ellas, otro récord. No es de extrañar que Stengel lo elogió con uno de los elogios más laterales jamás otorgados a un atleta: "Sr. Berra es un tipo muy extraño con habilidades muy notables. Después de la Serie Mundial de 1963, Yogi se retiró como jugador. En 19 temporadas, fue 18 veces All-Star y 10 veces campeón de la Serie Mundial. Insinuó que le gustaría jugar golf en su retiro, pero los Yankees arruinaron esos planes al nombrarlo entrenador. Fue despedido después de que los Yankees cayeron ante los Cardinals en la Serie Mundial de 1964 y luego fue contratado por Stengel, quien ahora dirigía a los Mets. Fue nombrado mánager de los Mets en 1972, despedido en 1975 y regresó a los Yankees como entrenador. Nueva York ganó la Serie Mundial en 1977 y 1978, y Berra fue nombrado gerente en 1984. Dieciséis juegos en la temporada de 1985, Berra fue despedido por el propietario George Steinbrenner. Entrenó a los Astros de Houston hasta 1989, cuando se retiró definitivamente.
Berra se había convertido en un héroe popular, y los periodistas deportivos y los comentaristas lo amaban tanto por su extraña forma de destrozar el idioma inglés como por su forma de jugar. Una vez dijo: "¿Por qué comprar un buen equipaje? Solo lo usas cuando viajas. En otra ocasión: "Se puede observar mucho mirando". También bromeó: "Cuando llegues a una bifurcación en el camino, tómala". Quizás lo más famoso fue que dijo: "No se acaba hasta que se acaba", resumiendo las esperanzas de cualquiera que espera que un equipo logre una victoria en el último minuto posible. No importa que Garagiola, en su posterior carrera como comentarista deportivo, inventara muchos de los dichos atribuidos a Berra. Como es habitual, Berra tuvo la última palabra sobre el tema: "Realmente no dije todo lo que dije".
Cuando Berra murió el 22 de septiembre de 2015, los escritores de obituarios recordaron esos comentarios fuera de lugar. También honraron su habilidad detrás del plato y sus años de juego sólido, constante y cuidadoso que le valieron a Berra la reputación de estar entre los mejores receptores, y quizás incluso el mejor, en jugar el juego. El número 8 de Berra fue retirado del roster de los Yankees en 1972, año en que ingresó al Salón de la Fama del Béisbol. Un par de meses después de su muerte, se le otorgó la Medalla Presidencial de la Libertad, y fue solo entonces que muchos fanáticos, al escuchar los elogios del presidente Barack Obama, se enteraron del heroísmo de Berra bajo fuego durante el Día D, 71 años antes. "Creo que se ha pasado un poco por alto su servicio militar porque los hombres como él realmente no hablaban mucho de eso", dijo Carmen Berra, la esposa de Yogi durante 64 años. "Él nunca habló de eso. No era gran cosa para él, o para hombres como él. Era justo lo que tenían que hacer".
¿Y en cuanto a la temporada de 1952? Los Yankees ganaron el banderín de la Liga Americana y luego desempolvaron a los Dodgers de Brooklyn en siete juegos, en la Serie Mundial. Berra abrió el camino, como siempre, hacia la victoria. Stengel pudo haber tenido que comer más tabletas antiácidas de las que le correspondían, pero no terminó hasta que terminó, y todo salió bien.
—Basado en Lawdie por Stephen Wong en Game Worn: Baseball Treasures from the Game's Greatest Heroes and Moments, Stephen Wong y Dave Grob, Smithsonian Books, 2016—
Sobre el Autor
Stephen Wong es director gerente, codirector del Real Estate Group in Asia Ex-Japan y chairman de la Investment Banking Division para Hong Kong en Goldman Sachs. Se incorporó a Goldman Sachs en 2005 y recibió el prestigioso premio John L. Weinberg de la firma en 2020. Ha publicado tres libros con Smithsonian Books, el más reciente Game Worn: Baseball Treasures from the Game's Greatest Heroes and Moments (2016), que fue nominado al premio Premio Casey. El propio Wong es un coleccionista de toda la vida de artefactos de béisbol raros y significativos. Es una de las autoridades más importantes del mundo en uniformes de béisbol, bates usados ​​en juegos y otras formas de recuerdos y ha ayudado a organizar exhibiciones con temas de béisbol en el Museo de California para California at Bat: America's Pastime in the Golden State (2018), el Museo Nacional de Historia Judía Estadounidense, el Museo Maltz de la Herencia Judía y el Centro Cultural Skirball para Chasing Dreams: Baseball and Becoming American (2014 – 2016) y el Museo de la Ciudad de Nueva York para Glory Days: New York Baseball, 1947 – 1957 (2007). Wong también se desempeña como asesor principal del Museo Jackie Robinson en Nueva York y también asesora y presta artefactos a los Gigantes de San Francisco. Wong es miembro del consejo de administración de Hobart and William Smith Colleges, donde obtuvo una licenciatura en economía en 1989 y un doctorado en derecho de la Facultad de derecho de Stanford en 1992.